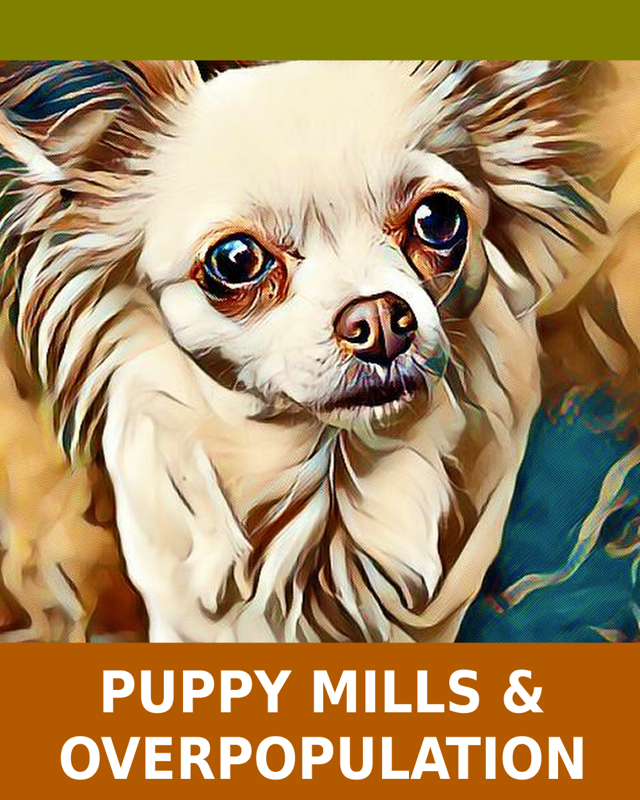 Puppy Mills & Overpopulation
Each year, in the United States, 27 million cats and dogs are born. Around 4 million of these animals are euthanized because homes are unable to be found for them. It is a tragic end to these healthy young lives.
Overpopulation is a problem that results in thousands of animals being killed each month. There are many reasons for this; all are preventable. The answer to this huge problem is simple: reduce the number of animals coming into this world. Through the routine procedure of spaying and neutering dogs and cats, there would be fewer unwanted animals, thus reducing or eliminating the heartbreaking process of euthanizing innocent animals left in our overcrowded shelters.
One group of people cannot personally take the blame for this overpopulation epidemic since there are many contributors to the problem. The responsibility is shared by irresponsible guardians, pet shops, puppy mills and professional and "backyard" breeders. Just one litter of puppies or kittens can be responsible for reproducing thousands more in just a few years.
IRRESPONSIBLE CARETAKERS
While there are many breeders and pet shops, the greatest cause of the overpopulation tragedy is individual caretakers who refuse or are afraid to get their companion spayed or neutered. Sometimes parents want their children to experience "the miracle of birth"; other times people let their non-spayed/neutered animals wander, and their companion animals end up mating with other companion animals. There are also people who are genuinely uncomfortable having their companions neutered, "taking away their masculinity," which often results in accidental mating. All of these factors add up to many innocent lives that need to find homes.
PROFESSIONAL & BACKYARD BREEDERS
Another obvious contributor to the overpopulation problem are professional and "backyard" breeders. These people are contributors to a market driven by the same American ideals of buying brand name products because of the associations that go along with them; many purebred animals are bought for the same identification purposes. There is also a tendency for inbreeding in purebred animals because of certain desirable characteristics. This has led to problems, such as deafness, hip dysplasia and epilepsy.
Mixed-breed animals are not the only ones who end up in shelters. A surprising fact is that purebred dogs make up 20 percent to 25 percent of shelter populations. Sometimes a family that just wanted to breed one litter cannot find homes for all the puppies, or the pet store is unable to sell the animal. The bottom line is, each animal that is purchased from a pet store or breeder potentially takes up a home for an animal that could have been adopted from a shelter.
PET STORES & PUPPY MILLS
Puppy mills are facilities that mass breed dogs in almost assembly-line conditions, where dogs are considered nothing more than products. Puppy mills are able to survive because of the demand for purebred animals. The animals are usually kept in squalid conditions, with just enough subsistence to keep them alive until they can be sold at wholesale prices to pet stores. Many of these animals are prone to disease because of the horrid conditions they are raised in and the stress of being shipped over great distances at a very young age.
THE SIMPLE SOLUTION
Spaying and neutering are important steps toward ending companion animal overpopulation. They are simple surgical procedures that are done on the reproductive organs of female and male animals. The procedure eliminates the ability of the animal to reproduce and, in the long term, can prevent many difficulties, such as tumors or bacterial infections that can occur in older animals.
Animals should never be purchased from puppy mills, backyard breeders and pet shops. Adopt - never shop.
What You Can Do
Adopt animals from local animal care facilities, rescue groups and shelters instead of purchasing them from breeders or pet stores.
Have your companions spayed or neutered.
Educate your community, friends and family about companion-animal overpopulation.
Puppy Mills
Few people can resist looking in the pet shop window to see what cute puppies and kittens might be inside. But a closer look into how pet shops obtain animals reveals a system in which the high price paid for "that doggie in the window" pales in comparison to the cost paid by the animals themselves. The vast majority of dogs sold in pet shops, up to half a million a year, are raised in "puppy mills," breeding kennels located mostly in the Midwest that are notorious for their cramped, crude, and filthy conditions and their continuous breeding of unhealthy and hard-to-socialize animals.
Puppy mill kennels usually consist of small wood and wire-mesh cages, or even empty crates or trailer cabs, all kept outdoors, where female dogs are bred continuously, with no rest between heat cycles. The mothers and their litters often suffer from malnutrition, exposure and lack of adequate veterinary care. Continuous breeding takes its toll on the females; they are killed at about age six or seven when their bodies give out, and they no longer can produce enough litters.
The puppies are taken from their mothers at the age of four to eight weeks and sold to brokers who pack them in crates for transport and resale to pet shops. Puppies being shipped from mill to broker to pet shop can cover hundreds of miles by pickup truck, tractor trailer and/or plane, often without adequate food, water, ventilation or shelter.
Between unsanitary conditions at puppy mills and poor treatment in transport, only half of the dogs bred at mills survive to make it to market. Those who do survive rarely get the kind of loving human contact necessary to make them suitable companions. By not spending money for proper food, housing, or veterinary care, the breeders, brokers, and pet shops ensure maximum profits. Cat breeding occurs on a smaller scale, but under similar conditions.
The U.S. Department of Agriculture (USDA) estimates that 25 percent of the 3,500 federally licensed breeding kennels have substandard conditions. The USDA is supposed to monitor and inspect the kennels to make sure they are not violating the housing standards of the Animal Welfare Act, but kennel inspections take low priority at the USDA and the kennels are not regularly inspected. Even when violations are found, kennel operators are rarely fined, much less shut down. Persistent offenders often refuse the Animal and Plant Health Inspection Service (APHIS) personnel access to their facilities to conduct inspections.
The American Kennel Club (AKC), while claiming to promote only reputable dealers, does not attempt to influence or reform puppy mill breeders, perhaps because it receives millions of dollars from breeders who pay the AKC registration fees for "purebred" dogs.
Puppy mills are rarely monitored by state governments.
Dogs from puppy mills are bred for quantity, not quality, causing unmonitored genetic defects and personality disorders to be passed on from generation to generation. The result is high veterinary bills for the people who buy such dogs, and the possibility that unsociable or maladjusted dogs will be disposed of when their guardians can't deal with their problems.
Dogs kept in small cages without exercise, love, or human contact develop undesirable behaviors and may become destructive or unsociable or bark excessively. Also, unlike humane societies and shelters, most pet shops do not inspect the future homes of the dogs they sell. They also dispose of unsold animals in whatever manner they see fit, and allegations of cruel killing methods abound. Poor enforcement of humane laws allows badly run pet shops to continue selling sick, unfit animals, although humane societies and police departments sometimes succeed in closing down pet shops where severe abuse is uncovered.
What You Can Do
In today's society, where unwanted dogs and cats (including purebreds) are killed by the millions every year in animal shelters, there is simply no reason for animals to be bred and sold for the pet shop trade. Without pet shops, the financial incentive for puppy mills would disappear. People looking for companion animals should go to animal shelters or breed rescue clubs.
Although animals sold by local breeders escape many of the early miseries that dogs suffer at puppy mills, they are subject to the same physical problems caused by inbreeding that animals from pet stores often exhibit, and they also contribute to the overpopulation of companion animals with its attendant suffering. Only when people refuse to support pet shops, puppy mills and breeders will this chain of misery be broken.